AlpineLAB x Alpine Katowice
Alpine Katowice has kickstarted its collaboration with a world-famous collector of Alpine cars.
Alpine Katowice, the only showroom in Poland distributing the iconic Alpine brand, has teamed up with Jurgen Clauss, a world-famous collector and lover of these French cars, and the creator of the unique alpineLAB platform. Jurgen has been restoring classic Alpine cars for over two decades. Now he has become an official ambassador of Alpine Katowice. In August 2020 he will be a special guest at the International Alpine Meeting during MotoClassic at the Topacz Castle.
It is not a coincidence that Alpine Katowice has chosen to work with Jurgen. From an early age, he has appreciated the beauty and originality of Alpine cars. According to Jurgen, their uniqueness lies in not following the mainstream. He also believes that the most important feature of the brand is its boldness – creating modern cars which refer to classic models without following automotive trends. This approach has attracted true automotive connoisseurs around the world and that is why they love Alpine. Jurgen is the creator of alpineLAB, a platform for friends and lovers of Alpine cars.
- Jurgen Clauss is an exceptional man. He is a great friend of mine and of Alpine Katowice. In 2018, he was the honorary guest of the first international Alpine and MotoClassic meeting in Wroclaw. His great passion for the brand, perfectionism, passion for details and work ethic are inspiring. That is why he is simply the perfect ambassador of Alpine as we share the same values. Jurgen is therefore a natural ally of our brand – explains Mateusz Widuch, marketing manager of Alpine Katowice.
The purpose of this collaboration is to spread awareness about these unique cars. A unique brand requires a non-standard approach. Alpine cars truly touch the human spirit. To celebrate this brand, is it important to educate people about its history and vision for the future. Only reliable knowledge fully captures the essence of Alpine and this is a chance to spark an interest in the next generation of automotive connoisseurs.
Jurgen Clauss comes from a cycling family from Germany. He runs a private company which produces precision tools. However, Alpine cars became his true passion. He discovered the brand as a child, and as a young man he bought his first Alpine car. Since 2001, he has been a hobbyist renovating old Alpine cars which he searches for all over the world. He currently has 15 cars in his collection and each of them has a long, documented history. According to Jurgen, he doesn't find cars, they find him. He reproduces classic Alpine models with the utmost attention to detail. Jurgen has been inspired by Aristotle, who famously said that "the whole is greater than the sum of its parts". In the case of restoring Alpine cars, the combination of many parts leads to the creation of a work of art. In 2019, Jurgen Clauss purchased the Alpine A110 Premiere Edition at the Alpine Katowice showroom.
Alpine
The Alpine brand was founded in 1955 by Jean Rédélé, a motor sports enthusiast. Alpine became a legend after Alpine A110 "Berlinette" won two editions of the Monte Carlo Rally in 1971 and 1973. Alpine recently returned with the new A110 sports car. This model is faithful to the timeless principles which have contributed to Alpine's success – it is compact, light and manoeuvrable to guarantee maximum driving pleasure.
Alpine Katowice
Alpine Katowice is the only showroom of Alpine cars in Poland and Eastern Europe. It features all the models of currently produced Alpine cars: A110 Pure, A110 Legende,A110 S and two limited editions: A110 Légende GT and A110 Color Edition. The showroom is part of the automotive Pietrzak Group.
Additional links:
The alpineLab homepage:
FB alpineLab
https://www.facebook.com/alpinelab110/
www Alpine Katowice
https://katowice.alpinecars.com/
FB Alpine Katowice
https://www.facebook.com/AlpineCentreCity/
Strona główna Alpine
Jurgen Clauss – Petrolicious
https://www.youtube.com/watch?v=e9F1YDjkJys
https://www.youtube.com/watch?v=RjAT1cTQbqg
Foto (collaboration Alpine Katowice & Jurgen Clauss): https://drive.google.com/drive/folders/1lGvsmc8PMWdw_g6x7AelPT0IoHSbRb3-
Contact:
Mateusz Widuch, 789 094 627, mateusz.widuch@grupapietrzak.pl
Tomasz Kamyk, 662 743 959, tomasz@warsawpr.pl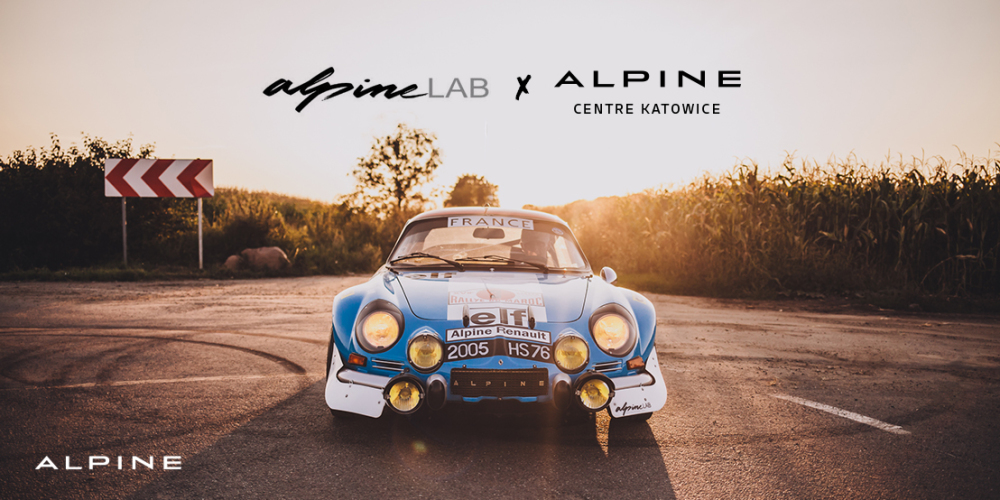 Inne aktualności